---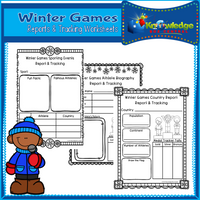 Add some fun to your classroom with these engaging Winter Games Reports and Tracking worksheets! These can be used for morning work, homework, group work, centers and more!
This product includes the following worksheets (print as many of each as you like, depending on how many athletes, countries, and events you study):
Winter Games Athlete Biography Report & Tracking

Winter Games Country Report Report & Tracking

Winter Games Sporting Events Report & Tracking

This ebook format includes a downloadable PDF file. Print as many as you need for your household.
***NOTE:THIS PRODUCT IS AVAILABLE IN EBOOK ONLY!