---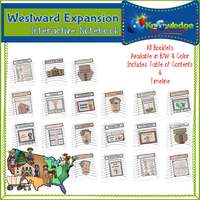 Looking for a fun, interactive way for your student(s) to learn about the history behind westward expansion in the United States? This Interactive Notebook brings you booklets on many historical figures, major events, as well as a Westward Expansion Timeline.
You may choose to use these to create FULL Westward Expansion Interactive Notebooks, Lapbooks, or print a few as you need them. The choice is yours. Images are in black and white so that the student may add color to the cover of each one.
All instructions and templates are included.
Included booklets (20 in total):
Annie Oakley

Battle of the Alamo

Buffalo Bill's Wild West Show

Building a Log Cabin

California Gold Rush

Cowboys

Daniel Boone

Fill Your Wagon!

Lewis & Clark's Journey West

Louisiana Purchase

Mexican-American War

Oregon Trail

Pioneer Life

Pony Express

Sacagawea

Sam Houston

Steam Engine Trains

Trail of Tears

Transcontinental Railroad

Westward Expansion Timeline

Download a free sample of this product here: VIEW SAMPLE FILE
This product is available in the following formats:
Ebook - This ebook format includes a downloadable PDF file. Just follow the instructions, cut, fold, glue, and create! Print as many as you need for your own household.
Printed - This product comes in a printed and bound book. Just remove the pages, follow the instructions for gluing and folding, and create!
CD - This product comes on a CD-ROM, which can be used with any Windows or Apple computer system. The CD includes a document in PDF format. Just follow the instructions, and print all of the instructions and templates for your students. Print as many as you need for your household.
***NOTE: ONLY THE EBOOK FORMAT IS AVAILABLE HERE. TO PURCHASE EITHER OF THE PHYSICAL FORMATS NOTED ABOVE PLEASE VISIT ONE OF OUR TRUSTED VENDORS: