---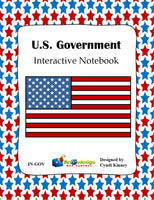 This Interactive Notebook may be used with any curriculum or textbook.
Students will create 23 foldable booklets, all realated to the topic of U.S. Government.
There are booklets on the location of and facts about:
The Capital

Executive Branch

Legislative Branch

Judicial Branch

Congress

Senate

House of Representatives

Presidency

How Laws are Made

Constitution

Supreme Court

Citizenship

National VS State Government

vocabulary

and more!

Templates and instructions included.
You may choose to use as many booklets as you like. All are included.
This ebook is a downloadable PDF file. Just follow the instructions, cut, fold, glue, and create!
For a FREE example of these Interactive Foldable Booklets, please download this one at no charge: Separating Mixtures Interactive Foldable Booklet
'Ä®
***NOTE: THIS PRODUCT IS AVAILABLE IN EBOOK ONLY!