---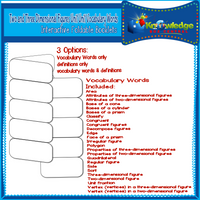 This set includes 6 vocabulary interactive foldables based on combined state standards for 3rd Grade Two and Three Dimensional Figures Unit. Each set of words is offered in three formats, words only, definitions only, and words with definitions.
Includes the following 25 words:
Area

Attributes of three-dimensional figures

Attributes of two-dimensional figures

Base of a cone

Bases of a cylinder

Bases of a prism

Classify

Congruent

Congruent figures

Decompose figures

Edge

Face of a prism

Irregular figure

Polygon

Properties of three-dimensional figures

Properties of two-dimensional figures

Quadrilateral

Regular figure

Side

Sort

Three-dimensional figure

Two-dimensional figure

Unit fraction

Vertex (vertices) in a three-dimensional figure

Vertex (vertices) in a two-dimensional figure

This ebook is a downloadable PDF file. Just follow the instructions, cut, fold, glue, and create!
For a FREE example of these Interactive Foldable Booklets, please download this one at no charge: Separating Mixtures Interactive Foldable Booklet
***NOTE: THIS PRODUCT IS AVAILABLE IN EBOOK ONLY!