---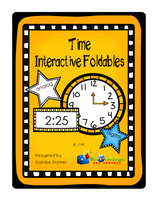 Use these fun interactive foldables to further your student's understanding of time, in all formats, written, digital and analog. These booklets can be used for introduction of the subject as well as review. This set contains 3 engaging foldables and 1 small worksheet that can all be glued inside a journal.
This ebook format includes a downloadable PDF file. Just follow the instructions, cut, fold, glue, and create! Print as many as you need for your own household.

For a FREE example of these Interactive Foldable Booklets, please download this one at no charge: Separating Mixtures Interactive Foldable Booklet

***NOTE: THIS PRODUCT IS AVAILABLE IN EBOOK ONLY!