---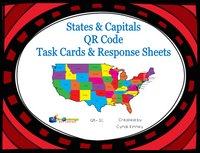 This is a set of 50 numbered QR Task Cards with Response Sheets and Answer Keys. Each Task Card includes an image of a state with the question, "What is the capital of ______?" Each Task Card also includes a QR Code for the student to use for self-checking.
Print, cut out, and laminate the task cards. Print out the 2 Response Sheets as well. Your students write the name of the capital on the appropriate Response Sheet. Then the student will scan the QR Code to check his answer. If his answer is correct, then he will put a check mark in the box provided on the Response Sheet. If his answer is incorrect, then he will record an X in that box. QR Codes open up a whole new, exciting way for students to learn!
These codes are scannable with any mobile or tablet device with a QR Code reading app. There are many completely free QR apps that will work on your device.
We suggest laminating the task cards for durability.
This ebook is a downloadable PDF file.
For a FREE example of these QR Code Task Cards, please download this one at no charge: CVC Words - Short A - QR Code Task Cards
'Ä®
***NOTE: THIS PRODUCT IS AVAILABLE IN EBOOK ONLY!