---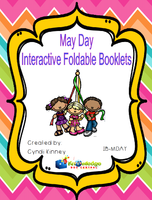 May Day is a celebration of Spring! Create these interactive foldable booklets as you learn about the history of this holiday and how it is celebrated around the world. These booklets will work well with in your Interactive Foldables or Lapbooks.
This ebook format includes a downloadable PDF file. Just follow the instructions, cut, fold, glue, and create! Print as many as you need for your own household.

For a FREE example of these Interactive Foldable Booklets, please download this one at no charge: Separating Mixtures Interactive Foldable Booklet

***NOTE: THIS PRODUCT IS AVAILABLE IN EBOOK ONLY!