---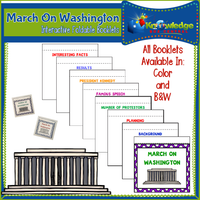 Discover the history behind the March on Washington as you create these interactive foldables for your Interactive Notebook or Lapbook. This product includes a full-color and black & white version of the March on Washington foldable booklet.
This ebook is a downloadable PDF file. Just follow the instructions, cut, fold, glue, and create!
For a FREE example of these Interactive Foldable Booklets, please download this one at no charge: Separating Mixtures Interactive Foldable Booklet
***NOTE: THIS PRODUCT IS AVAILABLE IN EBOOK ONLY!