---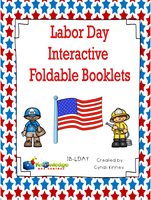 Labor Day is a day to celebrate all of the hard work done by American workers. This product includes 2 interactive booklets that the student will create. One explores the celebration itself and its history, and the other is a place for the student to document facts and more information about this holiday.
This ebook format includes a downloadable PDF file. Just follow the instructions, cut, fold, glue, and create! Print as many as you need for your own household.

For a FREE example of these Interactive Foldable Booklets, please download this one at no charge: Separating Mixtures Interactive Foldable Booklet

***NOTE: THIS PRODUCT IS AVAILABLE IN EBOOK ONLY!