---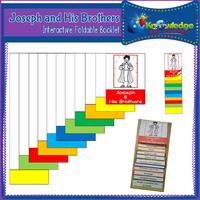 Do you students enjoy the story of Joseph and his Coat Of Many Colors? Well this fun activity will test their knowledge of that story and the order the events took place. Study Guide not included. Interactive foldable, template and instructions ONLY.
This ebook format includes a downloadable PDF file. Just follow the instructions, cut, fold, glue, and create! Print as many as you need for your own household.

For a FREE example of these Interactive Foldable Booklets, please download this one at no charge: Separating Mixtures Interactive Foldable Booklet

***NOTE: THIS PRODUCT IS AVAILABLE IN EBOOK ONLY!