---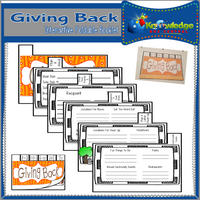 Community Outreach is a great way for children to begin to learn what giving back is all about. This booklet provides ideas for students, along with instructions on how to plan for an activity. Each page gives the student an area for preparing based on the instructions giving for that activity.
Your student will:
Prepare a meal

Treat your friends & neighbors

Organize a coat drive

Plan a litter clean up

Create a Community Guide

This ebook is a downloadable PDF file. Just follow the instructions, cut, fold, glue, and create!
For a FREE example of these Interactive Foldable Booklets, please download this one at no charge: Separating Mixtures Interactive Foldable Booklet
***NOTE: THIS PRODUCT IS AVAILABLE IN EBOOK ONLY!