---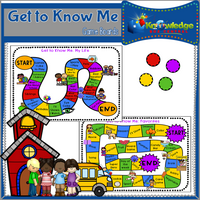 This ebook includes 2 games for your students to play in small groups. Each of the 2 game boards are very colorful and interactive.
The first one is "Get to Know Me: My Favorites" and the second one is "Get to Know Me: My Life".
Each one has different questions that the students will answer in order to get to know each other better.
This is the perfect activity for Back to School or any other time!
There are also Place Marker Game Pieces included, or you may choose to use game pieces from any commercial board game.
We suggest laminating the game boards for durability.
***NOTE: THIS PRODUCT IS AVAILABLE IN EBOOK ONLY!