---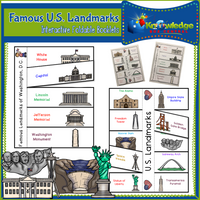 Explore the landmarks of the United States as you create these interactive foldables for your Interactive Notebook or Lapbook.
These 2 foldables cover:
Landmarks of the United States, including Space Needle, Freedom Tower, Statue of Liberty, Empire State Building, The Alamo, Mount Rushmore, Hoover Dam, Golden Gate Bridge, Gateway Arch, and Transamerica Pyramid

Landmarks within Washington, D.C.including White House, Capitol, Lincoln Memorial, Jefferson Memorial, and Washington Monument

This ebook format includes a downloadable PDF file. Just follow the instructions, cut, fold, glue, and create! Print as many as you need for your own household.

For a FREE example of these Interactive Foldable Booklets, please download this one at no charge: Separating Mixtures Interactive Foldable Booklet

***NOTE: THIS PRODUCT IS AVAILABLE IN EBOOK ONLY!