---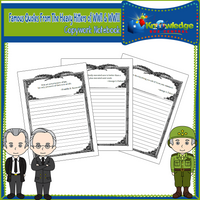 The first and second World Wars shaped our country in many ways. Throughout these changes, we looked to those in charge for answers. These great men of our history guided us through these difficult times with the power of their words. This book will allow your students to step back in time and learn a bit about the character of each of these men. Designed for all ages.
This ebook format includes a downloadable PDF file. It is designed to be used on any Windows or Apple computer system. Just follow the instructions to create your Copywork Notebook.

Download a free sample of this product here: VIEW SAMPLE FILE
***NOTE: THIS PRODUCT IS AVAILABLE IN EBOOK FORMAT ONLY.