---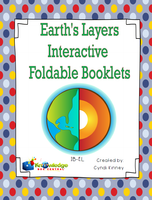 Did you know that the Earth is made up of number of layers? Create these interactive foldable booklets as you learn about each of those layers. Resource page provided. Glue these booklets into your Interactive Notebook or Lapbook.
This ebook format includes a downloadable PDF file. Just follow the instructions, cut, fold, glue, and create! Print as many as you need for your own household.

For a FREE example of these Interactive Foldable Booklets, please download this one at no charge: Separating Mixtures Interactive Foldable Booklet

***NOTE: THIS PRODUCT IS AVAILABLE IN EBOOK ONLY!