---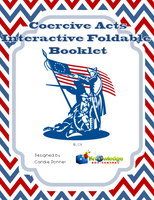 Following the Boston Tea Party and several other actions taken by the American colonists to destroy British property, the British Parliament enacted the Coercive Acts. This interactive foldable booklet was designed to be used with any textbook or curriculum. Your student will create a booklet where he can document what he is learning about the Coercive Acts.
Pages include:
The Boston Port Act

The Massachusetts Government Act

The Administration of Justice Act

The Quartering Act

All instructions,templates and a resource page included.
This ebook format includes a downloadable PDF file. Just follow the instructions, cut, fold, glue, and create! Print as many as you need for your own household.

For a FREE example of these Interactive Foldable Booklets, please download this one at no charge: Separating Mixtures Interactive Foldable Booklet

***NOTE: THIS PRODUCT IS AVAILABLE IN EBOOK ONLY!