---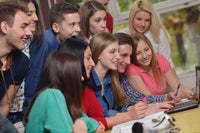 Would you like to use one of our products with your entire co-op, classroom, or group? No need for each student to purchase his or her own ebook.  Just purchase one ebook AND this Co-Op License.  Purchase of the Co-Op License will give you permission to print as many copies as needed for your group.  Just take the Co-Op License and a downloaded ebook file to your local printing source, such as Office Depot, Staples, etc, and present it to them. That's it! Now your whole group can use ONE ebook, saving quite a bit of money! If you have any questions regarding this license, please feel free to contact us.
License will be delivered as a download after you have completed the purchase. 
THE ONLY PRODUCTS REPRESENTED HERE ARE THE APOLOGIA LAPBOOK/LAPBOOK JOURNAL SUPPLEMENTS AND THE STATE HISTORY HISTORY LAPBOOK/LAPBOOK JOURNALS, AS THOSE ARE THE MOST POPULAR PRODUCTS CO-OP LICENSES ARE PURCHASED FOR.
IF YOU ARE NEEDING A LICENSE FOR A DIFFERENT PRODUCT PLEASE SELECT THE OPTION FOR "OTHER" FROM THE PRODUCT LINE DROP-DOWN & "CO-OP LICENSE FOR PRODUCT NOT LISTED"  FROM THE PRODUCT DROP-DOWN THEN INCLUDE THE PRODUCT TITLE IN THE NOTES SECTION AT CHECK OUT AND A LICENSE WILL BE EMAILED TO YOU WITHIN 48 HOURS. 
***NOTE: BE SURE TO SELECT THE PRODUCT YOU ARE PURCHASING THE CO-OP LICENSE FOR FROM THE DROP DOWN MENU BEFORE CLICKING "ADD TO CART".