---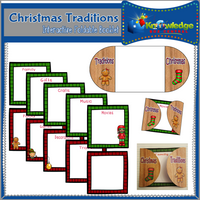 Every family has their own traditions at Christmas time. Create this fun interactive foldable to tell all about yours!
This foldable includes pages to document your family's traditions for:
Food

Gifts

Movies

Decorations

Crafts

Music

Travel

Blank page to add more!

For a FREE example of these Interactive Foldable Booklets, please download this one at no charge: Separating Mixtures Interactive Foldable Booklet

***NOTE: THIS PRODUCT IS AVAILABLE IN EBOOK ONLY!