---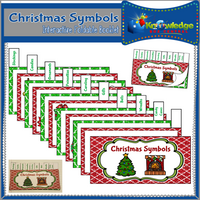 There are many symbols that have become associated with Christmas over the years.
As you create this foldable, you will tell what you know about the origin of:
Ornaments

Bells

Gifts

Stockings

Wreaths

Poinsettias

& More!

For a FREE example of these Interactive Foldable Booklets, please download this one at no charge: Separating Mixtures Interactive Foldable Booklet

***NOTE: THIS PRODUCT IS AVAILABLE IN EBOOK ONLY!