---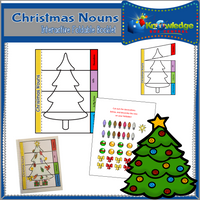 Want a fun way to practice your parts of speech? See how many Christmas-related nouns you can name, and then decorate a Christmas tree! FUN, FUN, FUN inside this ebook!
This foldable covers:
Christmas Nouns: Gifts

Christmas Nouns: Decorations

Christmas Nouns: In My Home

Christmas Nouns: In My Community

Decorate a Christmas Tree!

Instructions & templates are also included. Research required, and we have provided links to websites and videos for this purpose.
For a FREE example of these Interactive Foldable Booklets, please download this one at no charge: Separating Mixtures Interactive Foldable Booklet

***NOTE: THIS PRODUCT IS AVAILABLE IN EBOOK ONLY!