---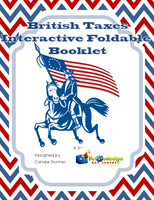 The taxes imposed on the colonists by the British Parliament were not received well and were partially to blame for sending them into the American Revolution. This interactive foldable booklet was designed to be used with any textbook or curriculum. Your student will create a booklet where he can document what he is learning about the British Taxes.
There is a page for:
The Stamp Act

The Townshend Act

TheTea Act

and blank pages for more information.

All instructions,templates and a resource page included.
For a FREE example of these Interactive Foldable Booklets, please download this one at no charge: Separating Mixtures Interactive Foldable Booklet
***NOTE: THIS PRODUCT IS AVAILABLE IN EBOOK ONLY!