---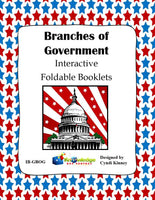 This interactive foldable booklet was designed to be used with any textbook or curriculum. Your student will create a booklet where he can document what he is learning about the 3 branches of government: legislative, executive, and judicial. There is also a blank page for adding more information. All instructions and templates included.
For a FREE example of these Interactive Foldable Booklets, please download this one at no charge: Separating Mixtures Interactive Foldable Booklet
***NOTE: THIS PRODUCT IS AVAILABLE IN EBOOK ONLY!