---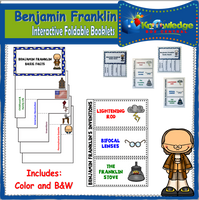 Who was Benjamin Franklin, and what did he accomplish as a Founding Father, Inventor, and Author? What is he known for? These and more questions will be answered as you create these interactive foldables for your Interactive Notebook or Lapbook.
These 2 foldables (each in color AND black & white) cover:
Franklin's childhood and family life

Franklin's  inventions

This ebook is a downloadable PDF file. Just follow the instructions, cut, fold, glue, and create!
For a FREE example of these Interactive Foldable Booklets, please download this one at no charge: Separating Mixtures Interactive Foldable Booklet
***NOTE: THIS PRODUCT IS AVAILABLE IN EBOOK ONLY!