---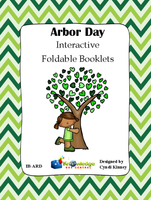 Arbor Day is the perfect day to plant and take care of our trees, and it is celebrated around the world! Create these interactive foldable booklets for your interactive notebook or lapbook. Links to resources included.
This ebook is a downloadable PDF file. Just follow the instructions, cut, fold, glue, and create!
For a FREE example of these Interactive Foldable Booklets, please download this one at no charge: Separating Mixtures Interactive Foldable Booklet
***NOTE: THIS PRODUCT IS AVAILABLE IN EBOOK ONLY!