---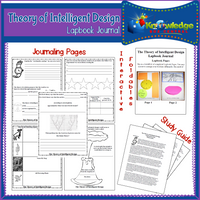 If a man is walking through the woods and finds a perfectly-functioning pocket watch lying on a stump, does he assume that the random forces of nature placed all of the parts together in exactly the right places to form a sophisticated time-piece, or does he assume that a clock-maker has passed that way before? This question, posed by natural theologian William Paley circa 1802, has led to the modern study of intelligent design. What is the study of intelligent design? Where can a student find resources to understand this subject?
This Lapbook Journal combines journaling with Lapbooking to help your student create a notebook that shows a true understanding of this subject. Written by a homeschool mother, it includes an extensive Study Guide on the most up-to-date research, as well as a journaling section and a section to make optional Lapbook pages. Each section includes suggested resources for further study, and there are links to videos and websites to further enhance learning. Use for a few weeks to get a general overview of the study of intelligent design, or spend 50 class hours completing all sections and some suggested further resources for a one-half high school credit in Science. This ebook format includes a downloadable PDF file. Just follow the instructions to create your own Lapbook Journal. Print as many as you need for your household.
This Lapbook was designed for 6th-12th grade students, but younger students may enjoy the challenge as well. Please also check out our Theory of Intelligent Design Lapbook, designed for K-8th grade students. BOTH of these products use the SAME Study Guide so that your entire family may study this fascinating subject together.
Download a free sample of this product here: VIEW SAMPLE
***NOTE: THIS PRODUCT IS AVAILABLE IN EBOOK ONLY!