---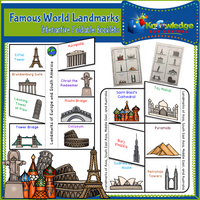 Explore the landmarks of the world as you create these interactive foldables for your Interactive Notebook or Lapbook.
These 2 foldables cover:
Landmarks of Asia, SE Asia, the Middle East, and Australia including Saint Basil's Cathedral, Taj Mahal, Burj Khalifa, Pyriamids of Egypt, Sydney Opera House, and Petronas Towers

Landmarks of Europe and South America, including Eiffel Tower, Acropolis, Brandenburg Gate, Christ the Redeemer, Leaning Tower of Pisa, Rialto Bridge, Tower Bridge, and Coliseum

This ebook format includes a downloadable PDF file. Just follow the instructions, cut, fold, glue, and create! Print as many as you need for your own household.

For a FREE example of these Interactive Foldable Booklets, please download this one at no charge: Separating Mixtures Interactive Foldable Booklet

***NOTE: THIS PRODUCT IS AVAILABLE IN EBOOK ONLY!