---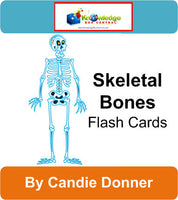 This set of Flash Cards is the perfect companion to ANY study of the human body! These are simple and FUN to use!
One side of each card includes an image of the bone, and the other side states the name of the bone.
This electronic file is downloadable in PDF format and can be used on Apple or Windows computers.
These cards are intended to be printed double-sided so that the word or picture is on one side and the definition is on the other.
There are 6 cards per page, and student should cut between cards.
***NOTE: THIS PRODUCT IS AVAILABLE IN EBOOK & TABLET FORMATS ONLY!