---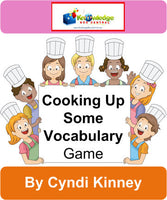 Do you enjoy cooking? How many cooking terms do you know? Show off your knowledge in this fun game!
Study Guide not included. Templates and instructions for game included. Designed to be used to create a Games Notebook.
Create a Games Notebook to instill a love of learning and add more hands on fun to Family Game Night.
A Games Notebook is a way of organizing hands-on educational games for students. You may choose to allow each student to make his or her own Games Notebook, or you can make one to use for the whole family.
All you need to do is purchase a large 3-ring binder and dividers. Label these dividers however you wish.
We suggest labels like these: Math, Grammar, Holidays, History, Science, etc. Then purchase the games that you like from our ever growing list of Games Notebook resources. Each time you add a game, assemble it and place it in the binder behind the appropriate tab. Soon, you will have an entire notebook full of games that you can use over and over again! Use these games to reinforce topics along your learning journey. Go back and play the games over and over because repetition does improve memory.
***NOTE: THIS PRODUCT IS AVAILABLE IN EBOOK ONLY!