---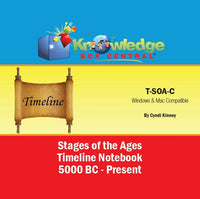 The "Stages of the Ages (TM) Timeline Notebook" was born out of the frustration within our own homeschool.
We had tried several different timeline notebooks, and we had created some of our own. However, the same problems kept cropping up: lack of space to document everything that we wanted to document, crowded pages, inability of the timeline notebooks to "grow" with us as my daughter got older, and more. I wanted to be able to REALLY have only ONE timeline notebook for my daughter...and have it last all the way through the end of high school.
This ebook is a downloadable PDF file. Just follow the instructions, cut, fold, glue, and create!
Download this product here: VIEW SAMPLE
***NOTE: THIS PRODUCT IS AVAILABLE IN EBOOK ONLY!