---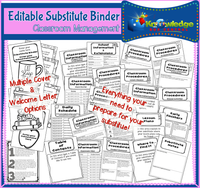 This editable substitute binder will make leaving your classroom for a day or two a breeze. Document all necessary information that your substitute will need without the worry of forgetting anything or leaving him/her unprepared.
We have included pages to fit all the needs of your district. Multiple pages are offered for some topics, allowing you to choose the style that best fits your needs. Pages included in this binder:
Binder Cover (there are four cover options with matching welcome letters to choose from)

Welcome Letter

School Information & Extensions

Daily Schedule

Student List/Attendance

Class Roster

Information Regarding Specific Students

Classroom Jobs

Behavior Expectations (one of the options included for this covers CHAMPS)

Arrival & Breakfast

Lunch & Recession

In-Room Rules

Special Activities

Emergency Procedures

Student Dismissal

Where To Find It

Lesson Plans

Early finishers

Substitute Notes

Additional Information

This product is an editable PowerPoint and gives you many freedoms that a PDF will not.