---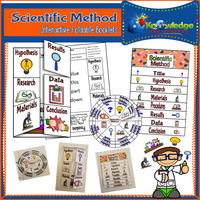 Looking for a creative way to not only TEACH the Scientific Method, but also a fun way for the students to DOCUMENT the Scientific Method while conducting an investigation or doing an experiment? Look no further! Inside, you will find 5 interactive foldables that you may use for this purpose! There are both color and black & white versions of 2 of the foldables.
These foldables cover:
Title/Purpose

Hypothesis

Research

Materials

Procedures

Results

Data

Conclusion

This ebook format includes a downloadable PDF file. Just follow the instructions, cut, fold, glue, and create! Print as many as you need for your own household.

For a FREE example of these Interactive Foldable Booklets, please download this one at no charge: Separating Mixtures Interactive Foldable Booklet

***NOTE: THIS PRODUCT IS AVAILABLE IN EBOOK ONLY!