---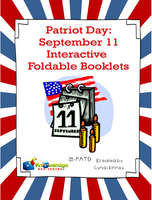 Patriot Day is a day when those in the United States honor and remember the victims and heroes of the September 11th ( 9/11 ) terrorist attacks. The student will create 3 booklets in which he will document what he has learned about this important event in history.
In the first booklet, the student will explore Patriot Day and how it is commemorated.
In the second, he will tell wha the has learned about the attacks of September 11th, including information about lives lost, heroes, attackers, aftermath, and memorials.
The last booklet is one where he will document other facts about the attacks.
This ebook format includes a downloadable PDF file. Just follow the instructions, cut, fold, glue, and create! Print as many as you need for your own household.

For a FREE example of these Interactive Foldable Booklets, please download this one at no charge: Separating Mixtures Interactive Foldable Booklet

***NOTE: THIS PRODUCT IS AVAILABLE IN EBOOK ONLY!