---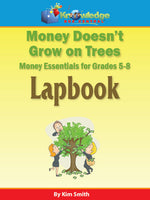 Do you want to make sure that your children don't grow up to be a member of a growing population of young adults that are being dubbed "The Generation of Entitlement"? Simply put, we can't wait until children are in the teen years to start teaching the value of earning what you get, and how to be responsible in spending what they earn. Children have to be taught concepts, such as: what a job really is, how parents get the money that is used to run the household, the family budget, how much money it takes to run the household, how banking works, the fact that there has to be real money in the bank in order to write a check or use a check/debit card, and, the big one--that money is not love!
Money Doesn't Grow On Trees-Money Essentials for Grades 5-8 is the second in a series of Lapbooks/Lapbook Journals designed to teach the junior high group both financial responsibility values and preparing this "tween" group for the personal finance world as they approach the high school years, when they will be moving toward earning their own money and/or joining the workforce.
This is not your typical "money Lapbook/Lapbook Journal". In order for kids to grow up to be self-sufficient and responsible in their finances, we must instill basic concepts, which sometimes, up until now, have not been taught, or even discussed, in the home. In this Lapbook/Lapbook Journal, students will learn the value of earning money, how to save, and they will be exposed to basic financial skills, such as earning a paycheck, how banks work, checks/checking account, saving, paying bills, and much, much more.
Download a free sample of this product here: VIEW SAMPLE FILE
***NOTE: THIS PRODUCT IS AVAILABLE IN EBOOK FORMAT ONLY! TO PURCHASE THIS PRODUCT IN A PHYSICAL FORMAT (CD or PRINT) PLEASE VISIT ONE OF OUR TRUSTED VENDORS: