---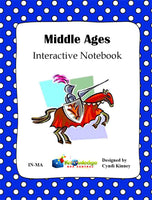 This Interactive Notebook is designed to be used with any textbook or curriculum.
There are 23 interactive foldable booklets included. Your student will cut out, fold, and document inside each one as he learns about the Middle Ages.
All instructions and templates are included.
Topics covered include:
Timeline

Nobility

Common People

Feudalism

Castles

Homes

Festivals

Foods

Feasts

Jousts & Tournaments

Music

Art

Clothing

Tools

Weapons

Vikings

Justinian

Charlemagne

Crusades

Magna Carta

Vikings

Bubonic Plague

Vocabulary

Fun Facts

You may choose to use as many booklets as you like. All are included.
This ebook is a downloadable PDF file. Just follow the instructions, cut, fold, glue, and create!
For a FREE example of these Interactive Foldable Booklets, please download this one at no charge: Separating Mixtures Interactive Foldable Booklet
***NOTE: THIS PRODUCT IS AVAILABLE IN EBOOK ONLY!