---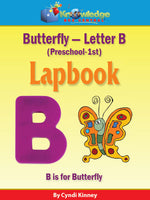 Have some fun studying Butterflies and the letter B with your Preschool to 1st grader. your students will create booklets on colorful paper and assemble them inside folders to create a hands-on Lapbook that they will treasure for years to come. Retention of the information is so much greater with this type of resource, and your students will truly enjoy creating this treasure. Includes a Study Guide. This ebook format includes a downloadable PDF file. Just follow the instructions, cut, fold, glue, and create! Print as many as you need for your own household.
Download a free sample of this product here: VIEW SAMPLE FILE
***NOTE: THIS PRODUCT IS AVAILABLE IN EBOOK ONLY!