---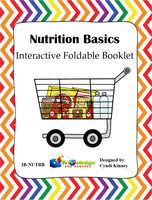 This interactive foldable booklet is designed to work with any curriculum or textbook. your student will document what he has learned about basic nutrition. There are pages where he will tell about water, carbohydrates, protein, fats & fatty acide, vitamins, minerals, calories, and a blank page for adding more information. All instructions and templates included.
This ebook format includes a downloadable PDF file. Just follow the instructions, cut, fold, glue, and create! Print as many as you need for your own household.

For a FREE example of these Interactive Foldable Booklets, please download this one at no charge: Separating Mixtures Interactive Foldable Booklet

***NOTE: THIS PRODUCT IS AVAILABLE IN EBOOK ONLY!