---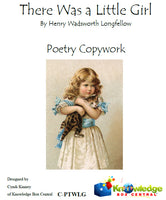 There Was a Little Girl is a poem by Henry Wadsworth Longfellow. With this tool, your student will memorize it by the end of this copywork lesson. Penmanship, vocabulary, punctuation, and grammar will all improve with continued use of copywork.
This ebook format includes a downloadable PDF file. It is designed to be used on any Windows or Apple computer system. Just follow the instructions to create your Copywork Notebook.

Please enjoy this product as a FREE sample of our Poetry Copywork products!
***NOTE: THIS PRODUCT IS AVAILABLE IN EBOOK FORMAT ONLY.