---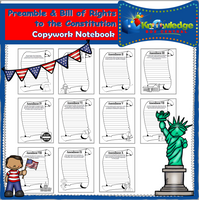 Guide your student through the Preamble and the Bill of Rights, helping them to understand their meaning and language. Copywork notebooks are designed to help your student learn spelling, punctuation, vocabulary and sentence structure while copying passages from literature passages or historical information. The idea is that the student will actually begin to imitate the elements in his own writing. Copywork is also an excellent tool for memorization.
This ebook format includes a downloadable PDF file. It is designed to be used on any Windows or Apple computer system. Just follow the instructions to create your Copywork Notebook.

Download a free sample of this product here: VIEW SAMPLE FILE
***NOTE: THIS PRODUCT IS AVAILABLE IN EBOOK FORMAT ONLY.