---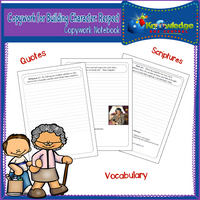 Philippians 2:3 (NIV): Do nothing out of selfish ambition or vain conceit. Rather, in humility value others above yourselves,
Copywork Notebooks are a valuable tool to help your children learn spelling, punctuation, sentence structure, and vocabulary while copying information from great written works. It includes, regular spaced lines and also features vocabulary extensions and/or thinking questions for each passage. Designed for 3rd -12th grade with Cursive Writing. This ebook format includes a downloadable PDF file. It is designed to be used on any Windows or Apple computer system. Just follow the instructions to create your Copywork Notebook.

Download a free sample of this product here: VIEW SAMPLE FILE
***NOTE: THIS PRODUCT IS AVAILABLE IN EBOOK FORMAT ONLY.