---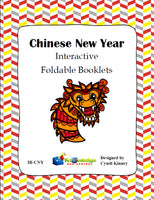 Chinese New Year is a HUGE celebration for many people in the world. Use these 3 booklets to document all that you are learning about this special time of year.
There are booklets for:
History

Traditions

Zodiac

Instructions & templates are also included. Research required, and we have provided links to websites and videos for this purpose.
For a FREE example of these Interactive Foldable Booklets, please download this one at no charge: Separating Mixtures Interactive Foldable Booklet

***NOTE: THIS PRODUCT IS AVAILABLE IN EBOOK ONLY!