---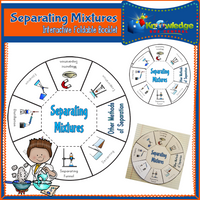 This interactive foldable booklet was designed to be used with any textbook or curriculum. your student will create a booklet where he can document what he is learning about the different methods for separating mixtures. All instructions and templates included.
This ebook is a downloadable PDF file. Just follow the instructions, cut, fold, glue, and create!
Please enjoy this FREE product as an example of our Interactive Foldable Booklet Products!
***NOTE: THIS PRODUCT IS AVAILABLE IN EBOOK ONLY!