---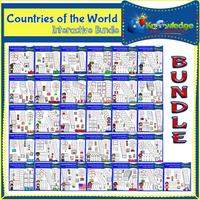 Sale
Have fun studying about some of the major countries of the world! These are designed to be used with any textbook or curriculum. Glue into your Interactive Notebook or Lapbook. As your student learns about each country, he will create 4 interactive foldable booklets for each of the 31 ebooks with a total of 124 interactive foldable booklets (4 for each country)!
You will receive 4 interactive foldable booklets on each of the countries listed below. For EACH country, you will receive booklets that cover geography, economic facts, government, and cultural facts (including languages, religions, food, famous citizens, and more).
Argentina
Brazil

China

Cuba

England
France
Germany
Greece
India
Iran
Ireland
Israel
Italy
Jamaica
Japan
Kenya
Mexico
The Netherlands
Norway
New Zealand
Philippines
Russia
Saudi Arabia
Scotland
South Africa
Spain
Sweden
Switzerland
United States of America
Vietnam
Wales
That 31 ebooks and 124 interactive foldable booklets! Regular price is $2.50 per ebook, so this bundle would cost $77.50 if purchased individually! But you get a huge discount!
This Bundle is a downloadable PDF file. Just follow the instructions, cut, fold, glue, and create!
***NOTE: THIS PRODUCT IS AVAILABLE IN EBOOK ONLY!