---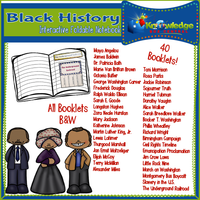 Looking for a fun, interactive way for your student(s) to learn about figures important to our Black History? This Interactive Notebook brings you booklets on many historical black figures as well as booklets on several of the challenges they faced in our history, as well as a Civil Rights Timeline.
You may choose to use these to create FULL Black History Interactive Notebooks, Lapbooks, or print a few as you need them. The choice is yours. Images are in black and white so that the student may add color to the cover of each one.  
All instructions and templates are included.
Included booklets (40 in total):
Maya Angelou

James Baldwin

Dr. Patricia Bath

Marie Van Brittan Brown

Octavia Butler

George Washington Carver

Frederick Douglas

Ralph Waldo Ellison

Sarah E. Goode

Langston Hughes

Zora Neale Hurston

Mary Jackson

Katherine Johnson

Martin Luther King, Jr.

Lewis Latimer

Thurgood Marshall

Jan Ernst Matzeliger

Elijah McCoy

Terry McMillan

Alexander Miles

Toni Morrison

Rosa Parks

Jackie Robinson

Sojourner Truth

Harriet Tubman

Dorothy Vaughn

Alice Walker

Sarah Breedlove Walker

Booker T. Washington

Phillis Wheatley

Richard Wright

Birmingham Campaign

Civil Rights Timeline

Emancipation Proclamation

Jim Crow Laws

Little Rock Nine

March on Washington

Montgomery Bus Boycott

Slavery in the U.S.

The Underground Railroad

This ebook is a downloadable PDF file. Just follow the instructions, cut, fold, glue, and create!
For a FREE sample of this product: CLICK HERE
TO PURCHASE THIS PRODUCT IN PRINTED OR CD FORMATS PLEASE VISIT ONE OF OUR TRUSTED VENDORS: