---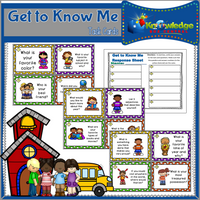 This activity is perfect for allowing your students to get to know each other. There are 12 task cards, each with a questions that the student answers about himself. The student may record the answers on the included response sheet, or he may answer aloud in a small group. Perfect for Back To School or any other time!
We suggest laminating the task cards for durability.
This ebook is a downloadable PDF file.
For a FREE example of our Task Card product line, please download this one at no charge: End of the School Year Reflections Task Cards
***NOTE: THIS PRODUCT IS AVAILABLE IN EBOOK ONLY!