---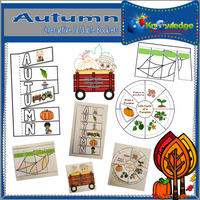 Autumn is such a beautiful time of year, and it brings to mind pumpkins, the harvest, scarecrows, hayrides, falling leaves, bonfires, cooler weather, holidays, and more. As you explore the season, you will create 4 interactive foldable booklets for your Interactive Notebook or Lapbook. These foldables cover:
Autumn Acrostic Foldable

Trees that Grow in My Area Foldable

My Favorite Things About Fall Foldable

Life Cycle of a Pumpkin Foldable

This ebook is a downloadable PDF file. Just follow the instructions, cut, fold, glue, and create!
For a FREE example of these Interactive Foldable Booklets, please download this one at no charge: Separating Mixtures Interactive Foldable Booklet
***NOTE: THIS PRODUCT IS AVAILABLE IN EBOOK ONLY!
For Bookshelf Central families: Here are some great books to go along with this topic!