---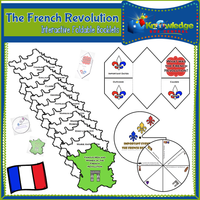 As you study about the French Revolution, you will create 3 interactive foldables to use in your Interactive Notebook or Lapbook.
These 3 foldables cover:
Causes

Important Dates

Outcome

Famous Men & Women of the French Revolution, including Marie Antoinette, King Louis XVI, Maximilian Robespierre, Marquis De Lafayette, Napoleon Bonaparte, Georges Danton, Claire Lacombe, Guillaume-Chretin De Malesherbes, and Charles (Baron de Montesquieu)

Important Events of the French Revolution, including Storming of the Bastille, Women's March on Versailles, Reign of Terror, the Directory, Execution of King Louis XVI and Marie Antoinette

This ebook is a downloadable PDF file. Just follow the instructions, cut, fold, glue, and create!
For a FREE example of these Interactive Foldable Booklets, please download this one at no charge: Separating Mixtures Interactive Foldable Booklet
***NOTE: THIS PRODUCT IS AVAILABLE IN EBOOK ONLY!