---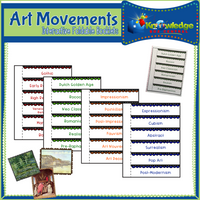 Beginning with the Renaissance and continuing through modern times, there have been many different styles or movements of art. Use these four interactive booklets to record facts about 24 of these movements. Use these booklets as a stand-alone lesson or in conjunction with our artist line of Interactive Booklets.
This ebook is a downloadable PDF file. Just follow the instructions, cut, fold, glue, and create!
For a FREE example of these Interactive Foldable Booklets, please download this one at no charge: Separating Mixtures Interactive Foldable Booklet
***NOTE: THIS PRODUCT IS AVAILABLE IN EBOOK ONLY!