---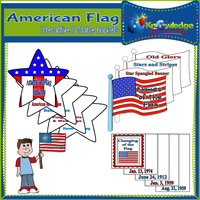 Do you know the history of the American flag? Why has it changed over the years? Did Betsy Ross design it? What do the colors, stripes, and stars symbolize? Whether you want to celebrate Flag Day or just learn about the American flag, this is a super fun way to do it!
Create 3 interactive foldable booklets to use in your Interactive Notebook or Lapbook.
This ebook format is a downloadable PDF format that can be used on any Windows or Apple device. Print, follow the instructions, and create! Print as many as you need for your household.
For a FREE example of these Interactive Foldable Booklets, please download this one at no charge: Separating Mixtures Interactive Foldable Booklet
***NOTE: THIS PRODUCT IS AVAILABLE IN EBOOK ONLY!