---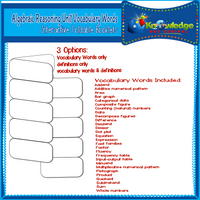 This set includes 6 vocabulary interactive foldables based on combined state standards for 3rd Grade Algebraic Reasoning Unit. Each set of words is offered in three formats, words only, definitions only, and words with definitions. Includes the following 28 words:
Addend
Additive numerical pattern
Area
Bar graph
Categorical data
Composite figure
Counting (natural) numbers
Data
Decompose figures
Difference
Dividend
Divisor
Dot plot
Equation
Expression
Fact families
Factor
Fluency
Frequency table
Input-output table
Minuend
Multiplicative numerical pattern
Pictograph
Product
Quotient
Subtrahend
Sum
Whole numbers
This ebook is a downloadable PDF file. Just follow the instructions, cut, fold, glue, and create!
For a FREE example of these Interactive Foldable Booklets, please download this one at no charge: Separating Mixtures Interactive Foldable Booklet
***NOTE: THIS PRODUCT IS AVAILABLE IN EBOOK ONLY!