---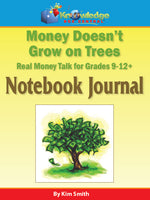 Finally! A curriculum for teens and young adults that teaches the value of being financially responsible AND the financial skills needed when it's time to leave the nest. This is not your typical personal finance curriculum. If you don't want your teen to become a part of a growing population of young adults that are being dubbed "The Generation of Entitlement" then this curriculum is for you.
As your student works through Real Money Talk for Grades 9-12, some of the topics he or she will learn are: how to save and why saving is important, the job process (job apps, resumes and more), banking (reconciling account, using check/debit cards, writing checks, online banking and more), budgeting (inflation, real life budgeting and more), bills (debt, credit report/score, identity theft, loans and more), credit cards, financing college, and even investing.
Learning to become responsible and to value paying your own way in this world are intertwined in the lessons of this notebook journal. your whole family could benefit from this curriculum, as it contains material that some adults don't even know about. Make learning about the topics of this notebook journal a family affair!
Download a free sample of this product here: VIEW SAMPLE FILE
***NOTE: THIS PRODUCT IS AVAILABLE IN EBOOK FORMAT ONLY! TO PURCHASE THIS PRODUCT IN A PHYSICAL FORMAT (CD or PRINT) PLEASE VISIT ONE OF OUR TRUSTED VENDORS: